1969 427 Corvette
560 Horsepower, 580 ft-lbs
An ongoing restoration project has been this '69 Corvette 4 speed. I went through the front and rear suspension, steering, bearings, ball joints, etc. Also took the front end underside apart and wire bushed the gunk and old paint off and painted it with POR15 before putting it back together. When restoring the interior, I found a lot of rust under the windshield pillars. I ended up removing the windshield to repair the rust under it. C3s are notorious for rusting here.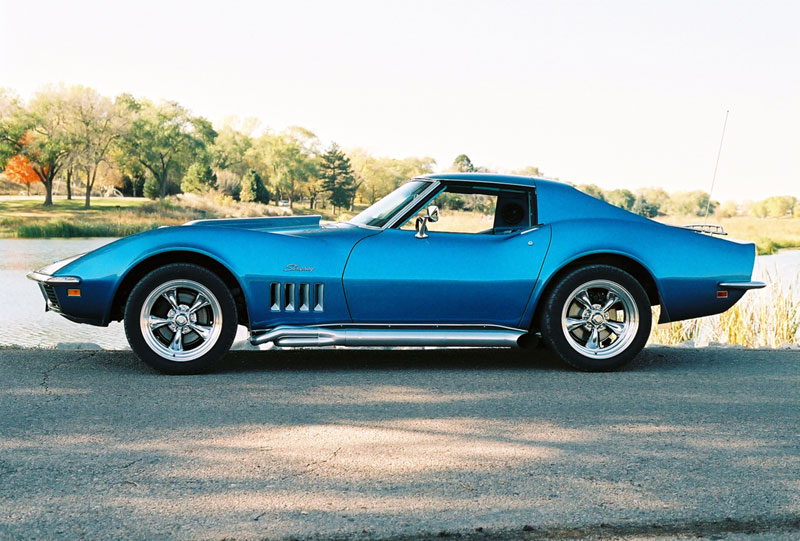 Somewhere along the way someone replaced the original 1969 engine block. The block in the car was a 1973 454, but the crank, heads and intake casting numbers all match up to the '69 427. A previous owner must have damaged the original block and replaced it with the '73, but used the original internals from the '69. I went hunting for a correct year 427 block and luckily located one in California. The found block is a 4 bolt main 1969, #3955270 427, dated B-10-9 (Feb 10, 1969). The body date on the car's door jam plate is March 10, 1969, so this block is perfect, as it will put the build date of the car one month after the casting date of the engine. The found block is in good shape with no cracks or sleeves and the bores are still at standard size (4.250" diameter) and didn't need to be bored oversize.

Here are the rebuild specs

1969 Corvette Coupe; Body date March 10, 1969
427 Four bolt main Bigblock #3955270, dated B-10-9 (Feb 10, 1969).
Crane hydraulic roller #139731, 226/234@.050, 288/296@adv., .587/.610 lift; 2,500-6,000 RPM
Crane gold roller race rockers #13750-16, 1.7 ratio
Standard TRW forged pistons TRW-L2268F, SpeedPro rings 2M6833
7/16" dimple rods, Clevite rod and main bearings
NOS GM steel standard crankshaft
AFR 305 Magnum BB Rectangle aluminum heads; 119cc combustion chamber
10:1 compression
Polished RPM Air-Gap 2-R Intake, #75621
Holley 850 "HO-Mod" Performance Carburetor, mechanical secondaries
MSD 6AL ignition, selective rev limit and on the fly adjustable timing
Weiand water pump #8212P; polished aluminum
Morso chrome 6 qt. oil pan
1 1/2 qt. oil Accumulator
VanSteel offset trailing arms
VanSteel smart struts
VanSteel Composite 360lbs rear Monospring
Dragvette half shaft and drive shaft safety loops
Spicer u-joints
Jethot coated hooker headers and side pipes
Keisler TREMEC TKO-600 5-speed overdrive transmission (0.64 5th) (2.87 1st)
3.08 rear; 79 mph at 2000rpm in 5th
Accelerates like a 3.50 rear in 1st with the TKO 2.87 1st gear
McLeod Clutch
Lakewood bell housing scattershield #15000
Holley Fuel Pump #12-454-11, 110 gph
560HP@5500rpm; 580 ft-lbs at 4000rpm.

Wheels: American Racing Torq-Thrust II C405 chromed aluminum,
Front 255/45-17 with 4" backspace
Rear 285/40-17 with 5.5" backspace
Tires: Goodyear Eagle F1 GS-D3,
Front: 255/45YR17, Rear 285/40YR17
| | |
| --- | --- |
| During the rebuild for the induction I first tried a dual quad intake with two eldabrok 600cfm carbs. I wasn't happy with it and had a hard time tuning the carbs. It looked cool but I couldn't get it to run good. These pictures of the motor with the dual carbs before going to an Air-Gap 2-R Intake wtih a Holley 850 single carb pictured above. | |
| | |
| | |
The photo above of Karla and me was taken before the side pipes where added. Karla had her MGB before we met. It had three corners bashed in. I restored and painted her car with lacquer in '95. Notice the hill in the background. Our driveway is on top of a hill. I have learned that you should always apply the parking brake when parking on top of a hill. :) We had a little Toyota and one day after a trip to town, the door bell rang. It is a construction guy from across the street who was working on the neighbor's roof. He said he heard a noise and looked up to see the Toyota going over the cliff. Evidently I forgot to leave the car in gear or apply the parking brake.

Here is the cliff that the Toyota went over.
It is a good sledding hill, but it isn't good on cars!


Here is a shot of the neighborhood from the top of the killer driveway.